A person walking their dog on a Victorian beach has made the grisly discovery of a woman's leg.
click for video.

baby with three legs.
Police said the person was walking along Newhaven Beach on Phillip Island, near the San Remo bridge, about midday (AEST) on Sunday when they found the limb.
The woman's identity is not known, the spokeswoman said.
"Police and State Emergency Service volunteers are about to launch a line search of the area to try and find more clues," the spokeswoman said.
Homicide squad detectives were expected to arrive at the scene on Sunday afternoon.
.......................
and in Canada:
VANCOUVER -- Yet another human foot encased in a running shoe has washed up on B.C.'s south coast, intensifying a macabre mystery that has flummoxed police and forensic investigators.
It's the second foot to turn up this week and the sixth in less than a year..................ORONTO, Aug. 4 (UPI) -- U.S. and .
.
TORONTO, Aug. 4 (UPI) -- U.S. and Canadian investigators were trying to determine Tuesday how a human foot got into Toronto garbage being sorted in Buffalo, N.Y.
The foot was taken to a medical examiner's office for preservation, An employee of a Buffalo recycling facility made the discovery Monday night on a sorting conveyor belt. Local police then contacted Toronto police, CTV News reported.
It wasn't immediately known if it was a male or female foot, and Sgt. Tony Vella told the broadcaster it was still unclear when the garbage had been shipped south of the border, or from which part of the city.
Friday was the end of a 40-day garbage pick-up strike in Toronto.
The foot was taken to a medical examiner's office for preservation,
Wednesday's discovery on Vancouver Island is the most gruesome. The man-sized right foot appeared to have been sawn from its owner's leg.
Unlike the others that have been found, including one discovered Monday near Vancouver, this one was not detached at the ankle joint; there was no evidence of disarticulation.
"It was cut clean, about three or four inches above the ankle bone. It was definitely severed, like it had been sawn off," said Sandra Malone, manager of Thunderbird RV Park and Campground in Campbell River, about 260 kilometres north of Victoria.
Ms. Malone was working what she thought was a routine shift at the RV park on Wednesday morning when a local woman approached her, obviously distraught. "She said she'd been collecting rocks for a craft project when she saw a shoe lying on the beach, just above the high-tide mark," recalled Ms. Malone. "She wasn't sure, but she thought there was a foot inside it."
Ms. Malone followed her down to the beach. The shoe-clad foot was lying in plain view. "I could see two white bones sticking out of a black sneaker. The bones didn't have any flesh on them but they didn't look that old. The shoe was in pretty good condition but there was a lot of seaweed around it," said Ms. Malon...............and in Thailand: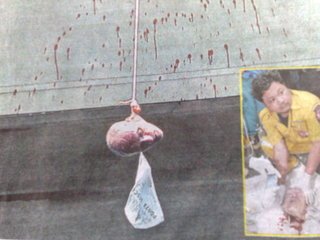 A "Westerner's" severed head was found in a plastic bag hanging from a rope from a bridge in Thailand on Monday. Turns out he wasn't murdered, he was just depressed. And he wasn't just any ol' Westerner: he was a 53-year-old Italian named Maurizio Tosadori. So he tied a rope around his neck and jumped from the Rama VIII bridge, leaving nothing behind but an indecipherable note.