Were architects influenced by blueprints from outer space, developing buildings such the Twin Towers?
Following pictures are structures found in meteorites.
.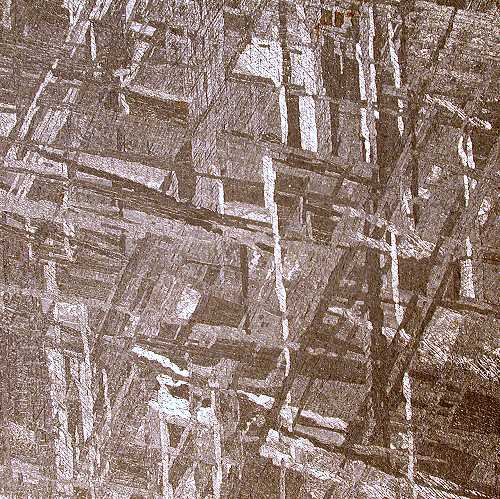 The formation of the Widmanstatten structure (crystallization of Ni/Fe) seen above is the result of an asteroidal core cooling very slowly over millions of years. The following chart, helpful in cooling rate data, shows an association between group, cooling rate, and parent body radius, and is a distillation of data from referenced researchers.
This pattern is millions of years old, discovered when a meteorite fragments were sliced and polished. Did it occur by chance of slow cooling of nickel and iron or was it part of an architectural plan of ancient, sentient beings?
Scientists call it "widmanstatten structure."
(Ric)
Quite a few years ago I read an article in the Scientific American about a photographic hologram on glass. It seems the glass negative broke and a lab assistant broke the whole thing up into pieces. The amazing thing was that there was a perfect hologram of the main design on every piece. If any reader can direct me to this article or a similar one, I would be grateful.
It occurred to me today that these widmanstatten designs found in some meteorites may be pieces of a kind of three-dimensional larger object developed some millions or billions of years ago by some earlier civilization, like small pieces of a hologram, (but not a hologram.)
It may very well be that the designs are intrinsic to nickel and iron under certain conditions and the fusion of the two metals may very well have taken millions of years. However these qualities may have been originally programmed into them.
If this is so, then there may be countless designs in other elements throughout the galaxy and beyond, but iron and nickel seem to be what survive as meteorites, and they are what we pick up and see.
In other words, maybe these design patterns were part of earlier civilizations, and we just happen to find them, like picking up a message in a bottle written in an unknown language......Ric Williams
.
(added)
Although a hologram is a visual image of a physical object, it is quite different from a photograph.

For instance, when an object is photographed, each portion of the photo contains an

image of the corresponding portion of the original object. Each section of a hologram, however, contains a complete image of the original object, viewed from a vantage point that corresponds to the section's position on the hologram. Thus, if the transparent plate containing a transmission hologram is broken, each piece will still be able to project the entire image, albeit from a different point of view. Using a piece from near the top of the holographic plate will produce an image as seen from above, while using a piece from near the bottom of the plate will create the impression of looking upward toward the object.


Another interesting property of holograms is that they preserve the optical

properties of objects such as lenses. For instance, consider making a hologram of a magnifying glass placed in front of a butterfly. When viewing the holographic image of those objects, an observer will find that the portions of the butterfly seen through the image of the magnifying glass will be enlarged.
Holographic packaging has been shown to increase the sales of certain products. Projectio


Read more: How hologram is made - material, making, history, how to make, used, dimensions, steps, product, machine, History, Raw Materials, Design, The Manufacturing Process http://www.madehow.com/Volume-3/Hologram.html#ixzz107mwEWRm