Would you as a Christian follow Jesus if it could be proven he was a paedophile?(As far as can be ascertained he was not.) It would be a sure thing that a lot of people would criticize the church if that were true.
What if the church decreed no-one could criticize Jesus even if he was a paedophile?
What if you were liable to be killed if you criticized any aspect of Jesus?
Would you call this a tolerant religion of peace?
http://www.answering-islam.org/Silas/childbrides.htm
Well, it is proven that Mohammed was a child molester. He says so in his writings in the Koran. He says it is all right to have sex with little children even as young as three or four.
He married his child "wife" when she was 6 years old and consummated the "marriage" with sexual acts when she was nine.
Sahih Bukhari 5.234
Narrated Aisha:
The Prophet engaged me when I was a girl of six (years). We went to Medina and stayed at the home of Bani-al-Harith bin Khazraj. Then I got ill and my hair fell down. Later on my hair grew (again) and my mother, Um Ruman, came to me while I was playing in a swing with some of my girl friends. She called me, and I went to her, not knowing what she wanted to do to me. She caught me by the hand and made me stand at the door of the house. I was breathless then, and when my breathing became Allright, she took some water and rubbed my face and head with it. Then she took me into the house. There in the house I saw some Ansari women who said, "Best wishes and Allah's Blessing and a good luck." Then she entrusted me to them and they prepared me (for the marriage). Unexpectedly Allah's Apostle came to me in the forenoon and my mother handed me over to him, and at that time I was a girl of nine years of age
Muslims do not criticize this aspect of Mohammed. In fact if they did criticize it, they would be liable to be killed. They call ISLAM the true religion of peace, tolerance and union with GOD.
OH YEAH!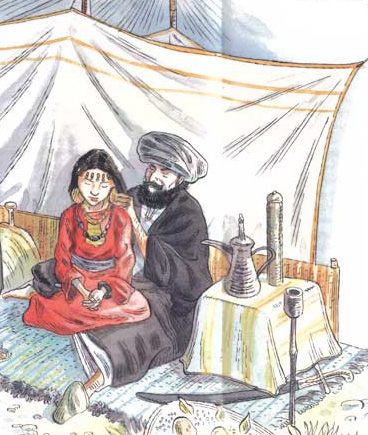 "Don't worry , my dearest. It won't hurt much!"