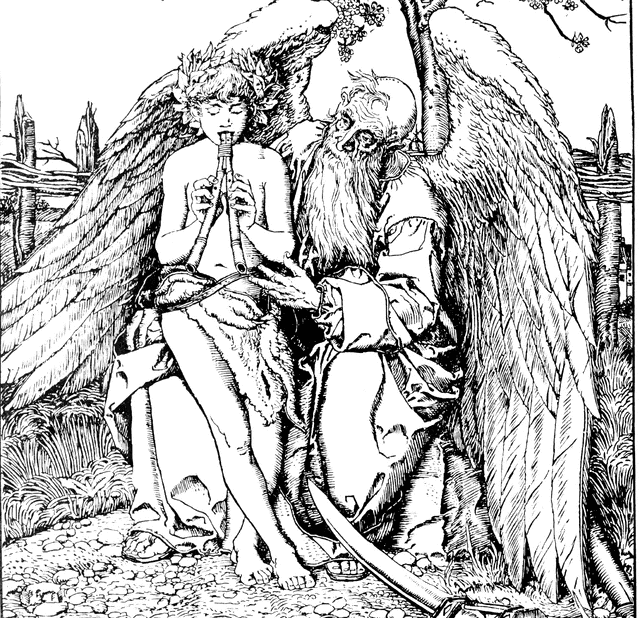 I awoke in the early hours when it were still dark before the cock crew. There were a wind in the trees which danced eerily in the dimness. Was that a" tap, tap" outside the kitchen door? A brushing against the threshold surely, not loud but insistent.
No Time to wearily turn and sleep again. I tumbled from my bed and called in my cracked, frail voice of an aged man,
"Who is there? Who do you want at this unearthly hour?"
A deep voice of authority sounded through the wall."I want you Cedric Hector Williams, born 8th March, 1932. I am sent for you. Hurry now! Your time has come."
Through the frosted window pane, a figure could be seen. The shape of a bearded being with long hair and scythe in hand, garbed with cloak reaching to the ground.
"Is it time?" I asked quavering, as a man speaks being lead to the gallows.
"Indeed, you can't complain. You have had your span and then some. I see in the records that you have lead a dissolute life and harmed many by your selfishness. It is doubtful eternity will be a comfort for you."
"Well I will stay here then, bothering no-one and atoning for my sins. Or may I be a wandering spirit throughout the earth searching for my redemption?"
"Enough silly talk. I have no Time to waste. Ha ha! that is a joke. I am not without wit. Say goodbye to your family and let us go.Time awaits!"
"My family will not talk to me."
"No doubt they have good cause."
"Please Father Time, please give me a little Time yet. To put my affairs in order."
"How much do you require?"
"Well, you would probably agree that ten years is a little too long?"
"Absolutely."
"Well how about five years then?" I gazed expectantly a the stern figure.
"How about two, if you make good use of it and don't just fritter it away, looking at television and D.V.D.'s from the library, or talk inanities to your neighbours..... "
"Done! Two years will be great.. I will not mind even my painful gout or faltering memory."
The being paused a moment then spoke."I will be gone, but mark you, I will return. Two years flies by like a click in eternity."
"Yes, I know. Yesterday I was a young man with a world of life remaining and now evening arrives soon after breakfast."
.....................
I turned in my lumpy bed. Was it a dream? Time to get up. Oh yes, Time. What shall I do today. There's a good show on T.V. at 8 p.m. on channel nine, and I must go to the library for some thriller movies to pass my Time.. Life is becoming so boring. Is that all there is left in Life? "
Ric.
The Old must make way for the New.