Livers, kidneys and even corneas removed from 11,000 live political prisoners WITHOUT anaesthetic every year in China, claims documentary
Eight year investigation claims thousands had organs removed in China
Banned religious group Falun Gong is key target, documentary claims
Just 37 registered organ donors in China but country has the world's second highest rate of transplants
One surgeon is said to have removed corneas from 2,000 living people
Chinese government denies allegations claiming donors are volunteers
http://www.bbc.com/news/world-asia-china-33220235


Read more: http://www.dailymail.co.uk/news/article-3030037/Livers-kidneys-corneas-removed-11-000-live-political-prisoners-WITHOUT-anaesthetic-year-China-claims-documentary.html#ixzz3pEkpd6rR
Follow us: @MailOnline on Twitter | DailyMail on Facebook
also read how chinese torture dogs and skin them alive, prepare them for restaurants....
http://www.bbc.com/news/world-asia-china-33220235
---

www.latimes.com/world/.../la-fg-china-canada-miss-world-human-rights-...


7 days ago -

Anastasia Lin,

Miss World Canada

2015, talks with Rep. ...

global

finals are

refusing

to provide the paperwork necessary for her to obtain a

visa

....because she spoke out against Chinese medical vivisection of Falun Gong prisoners of conscience.
Driven to Kill
Why drivers in China intentionally kill the pedestrians they hit.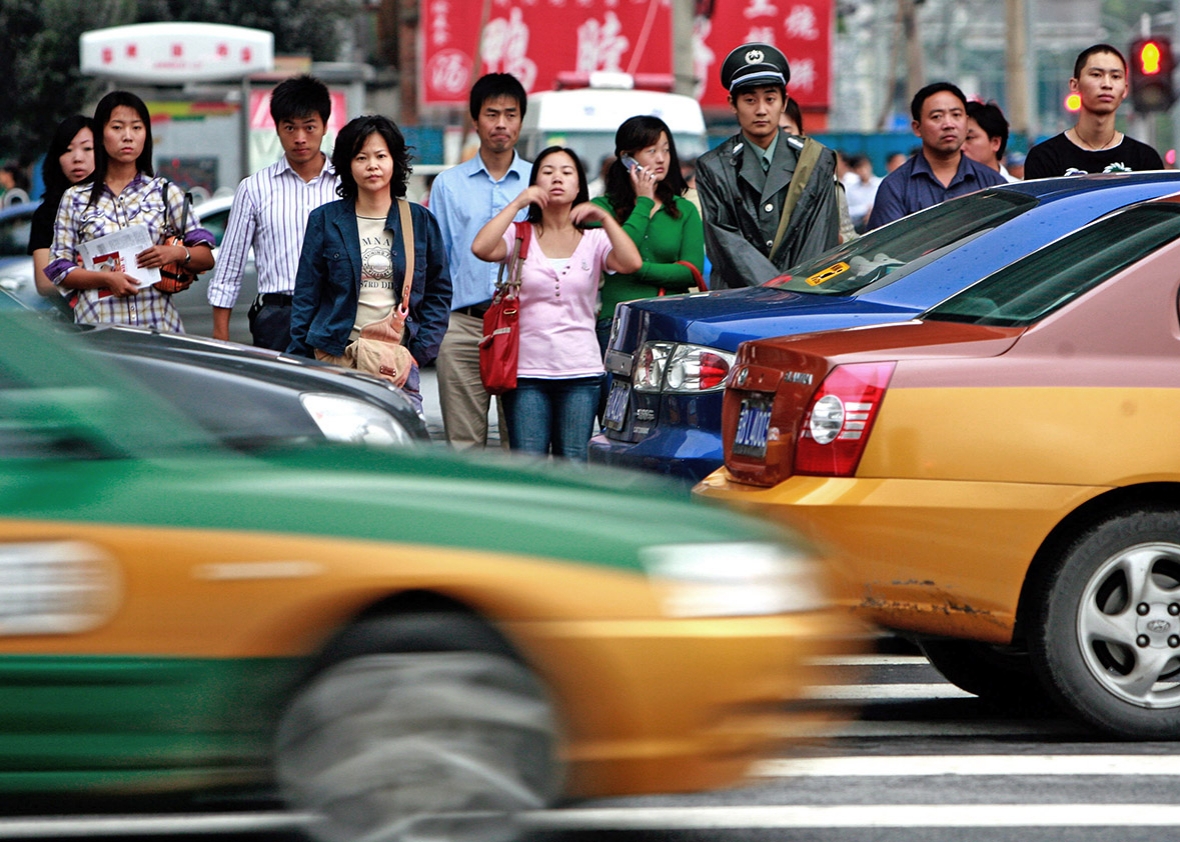 I
n April a BMW racing through a fruit market in Foshan in China's Guangdong province knocked down a 2-year-old girl and rolled over her head. As the girl's grandmother shouted, "Stop! You've hit a child!" the BMW's driver paused, then switched into reverse and backed up over the girl. The woman at the wheel drove forward once more, crushing the girl for a third time. When she finally got out from the BMW, the unlicensed driver immediately offered the horrified family a deal: "Don't say that I was driving the car," she said. "Say it was my husband. We can give you money."
It seems like a crazy urban legend: In China, drivers who have injured pedestrians will sometimes then try to kill them. And yet not only is it true, it's fairly common; security
cameras
have regularly captured drivers driving back and forth on top of victims to make sure that they are dead. The Chinese language even has an adage for the phenomenon: "It is better to hit to kill than to hit and injure."
This 2008 television report features
security camera footage
of a dusty white Passat reversing at high speed and smashing into a 64-year-old grandmother. The Passat's back wheels bounce up over her head and body. The driver, Zhao Xiao Cheng, stops the car for a moment then hits the gas, causing his front wheels to roll over the woman. Then Zhao shifts into drive, wheels grinding the woman into the pavement. Zhao is not done. Twice more he shifts back and forth between drive and reverse, each time thudding over the grandmother's body. He then speeds away from her corpse.
Incredibly, Zhao was found not guilty of intentional homicide. Accepting Zhao's claim that he thought he was driving over a trash bag, the court of Taizhou in Zhejiang province sentenced him to just three years in prison for "negligence." Zhao's case was unusual only in that it was caught on video. As the television anchor noted, "You can see online an endless stream of stories talking about cases similar to this one."
"Double-hit cases" have been around for decades. I first heard of the "hit-to-kill" phenomenon in Taiwan in the mid-1990s when I was working there as an English teacher. A fellow teacher would drive us to classes. After one near-miss of a motorcyclist, he said, "If I hit someone, I'll hit him again and make sure he's dead." Enjoying my shock, he explained that in Taiwan, if you cripple a man, you pay for the injured person's care for a lifetime. But if you kill the person, you "only have to pay once, like a burial fee." He insisted he was serious—and that this was common.
Most people agree that the hit-to-kill phenomenon stems at least in part from perverse laws on victim compensation. In China the compensation for killing a victim in a traffic accident is relatively small—amounts typically range from $30,000 to $50,000—and once payment is made, the matter is over. By contrast, paying for lifetime care for a disabled survivor can run into the millions. The Chinese press recently described how one disabled man received about $400,000 for the first 23 years of his care. Drivers who decide to hit-and-kill do so because killing is far more economical. Indeed, Zhao Xiao Cheng—the man caught on a security camera video driving over a grandmother five times—ended up paying only about $70,000 in compensation.
In 2010 in Xinyi,
video
captured a wealthy young man reversing his BMW X6 out of a parking spot. He hits a 3-year-old boy, knocking the child to the ground and rolling over his skull. The driver then shifts his BMW into drive and crushes the child again. Remarkably, the driver then gets out of the BMW, puts the vehicle in reverse, and guides it with his hand as he walks the vehicle backward over the boy's crumpled body. The man's foot is so close to the toddler's head that, if alive, the boy could have reached out and touched him. The driver then puts the BMW in drive again, running over the boy one last time as he drives away.
Here too, the driver was charged only with accidentally causing a person's death. (He claimed to have confused the boy with a cardboard box or trash bag.) Police rejected charges of murder and even of fleeing the scene of the crime, ignoring the fact that the driver ran over the boy's head as he sped away.
DOG MEAT
https://www.google.ca/search?q=photo+dogmeat+in+china&espv=2&biw=1082&bih=645&tbm=isch&imgil=Qkp9qvEK9MA7KM%253A%253Bp6ehK-P9jxlraM%253Bhttp%25253A%25252F%25252Fwww.asiantribune.com%25252Fnode%25252F87224&source=iu&pf=m&fir=Qkp9qvEK9MA7KM%253A%252Cp6ehK-P9jxlraM%252C_&usg=__jWtIajlOOVy4gFs9bg9-H64YTZs%3D&ved=0CCUQyjdqFQoTCJ_H1LeH8cgCFVX6YwodPlIFfQ&ei=ffs2Vt-UNNX0jwO-pJXoBw#imgrc=Qkp9qvEK9MA7KM%3A&usg=__jWtIajlOOVy4gFs9bg9-H64YTZs%3D
Even Dirtier - Chinese Toilet Habits


Apart from the germs spread by spitting and blowing your nose everywhere, there are other things you have to contend with in China. Perhaps the vilest of these are the toilet habits of the Chinese, so vile so that they deserve a chapter to themselves.

Some may argue that these are cultural differences. But I beg to differ. There are cultural differences that can and should be tolerated, and there are just plain nasty habits that hark back to an era of primitiveness when we still walked on all fours. China has squat toilets and Western style toilets. The squat toilets are traditional and are a cultural difference. But the toilet habits of many Chinese are not. They are extraordinarily dirty. Sometimes, I think even a dog has cleaner potty habits than many of them.

A toilet in Chinese countryside is usually a harrowing experience and one you will unfortunately remember for the rest of your life (unless you're Chinese). First, the smell: you can usually smell a Chinese toilet from far off. When you enter, you may run back out. What greets you are a row of rectangular holes in the ground and all around them are strewn lumps of stale feces and used toilet paper. There are no doors on the stalls, sometimes, even no partitions between the holes. But those are just the very sometimes when you've eaten some of China's finest prepared laxatives, prepared in a dirty restaurant by dirty people. So you quickly glance around, then run back in, clutching your aching stomach in agony. You very gingerly step towards the toilet, taking utmost care not to step on any stale shit or used toilet paper and do your business.

If you are lucky, you will use the toilet in privacy. But if you aren't, some Chinese person will enter, see you, a foreigner squatting and start giggling. If you're in a school, then you may very well die of embarrassment when the kids see you and not only giggle, but beckon their friends, loudly proclaiming, "Waiguo laoshi shang cesuo" – Foreign teacher using toilet, and the whole lot come running in and trying to see if your bottom is blue in colour.

Yet, I feel the behaviour of the kids is tame compared to the animals whose are so primitive they can't defecate into the toilet and throw toilet paper in the toilet or wastebasket provided for the purpose. You start asking yourself if they know what a toilet is to be used for in the first place. What is wrong with these people? Is this how they behave in their houses? Do they like to see stale shit on entering the toilet? Or do they get woozy from the stench and accidentally position their rear ends wrongly.

City people will claim these are dirty countryside habits but this is a blatant lie. For two years, I lived in a provincial capital in China's northeast. I worked in a modern high rise building on the eleventh floor in the most cosmopolitan area of the city. You could smell the toilets when you got off the elevator, despite the doors to the toilets being shut. The act of going to use the toilet was filled with apprehension, because 75% of the time, when you entered, the toilet was unflushed by the last occupant and full of reeking shit. Judging by the amount of shit, sometimes it was the last 2 or 3 occupants. On many occasions, I almost puked. And even in the squat pots, they spit on the floor, not in the pot. So when you go in and squat, you're staring at frothy spit in front of you.

Children learn bad toilet habits from young. They will literally stoop and pee or defecate on the street, despite there being a public toilet 10 metres away. The vast majority of Chinese children have never worn a diaper. Instead, they have a big slit that, when they stoop down, opens and allows them to pass whatever. Or if it's a baby, the mother will hold the baby up, and indecently open the baby's legs as wide as possible. Once I was on a train and there was a toddler who wanted to use the toilet. Rather than take the child to the toilet 5 metres away, the mother opened a bottle and had the child pee in that. Have some of these people no shame, no sense of what is decent and acceptable to civilized people? Really, what do these people think sometimes? Is there shit in their heads as well as in their lower parts?

The state of Chinese toilets is the one thing most repulsive to foreigners in China. And this is the thing I most cannot understand about China: the toilet habits of not all but so very many. I can understand the lack of privacy - Chinese people grow up with the community and family so they do everything together, including using the toilet. So to them it doesn't matter if there are no doors. But for the filthiness, there is just NO excuse. When I went hiking about the countryside in England, I came to a conclusion that humans are different from animals. Animals shit everywhere and don't care. Humans, on the other hand, have a sense of decency, self respect and an appreciation for hygiene.

Chinese people are human right, so why can't they realize that the sight and smell of shit that's weeks old is repulsive? That toilet paper thrown everywhere is unsightly and disgusting? Really, you don't have to have a brain to realize this. But like obeying traffic laws, littering and queuing, this is just another example of the Chinese state of mind where common sense and what is practical and beneficial to the society takes second place to uncivilized impulsiveness, selfishness and stupidity. And dirtiness.



What is this lady thinking???!!! There's a restroom less than 10 metres away. But TIC: This is China. Kids will stoop on the street and use the toilet and no-one bats an eye.










The boys' toilets in a Chinese school in downtown Changchun. In most countries, this school would be shut down for health and safety reasons, the stench being so pungent that your nose and eyes buwn and start to water within 15 seconds of entering. But in China, this is a good school. Poverty is not the reason - the school has enough money to revamp the toilet system 10 times over if it wanted. So what is the reason: stupidity and dirtiness. China may be advancing but attitudes remain deep in the gutter.













The real China. Most toilets, most days. What is so hard about flushing the toilet? Is this Chinese culture?













single mothers in china receive no birth certificates for their babies

Reuters